Most burglar alarm users must deal with the flip-side, false alarms. There are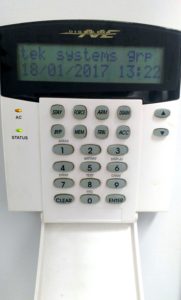 things that all can do to reduce the unnecessary costs on themselves and hard-working Police Departments. For example:
know your codes
keep pets in their place or use pet-immune sensors
secure all windows and doors
alert house guests, cleaning staff, or new system users
keep contact lists with us up-to-date
watch for and secure stray objects near motion detectors
replace batteries regularly; and
tell us if equipment is faulty or damaged!
Verification is the next big thing in the security industry. The trend is clear, increased false alarms leading to inefficient use of resources for Municipal Police Departments has the security-tech industry crafting more sophisticated ways to verify false alarms. Currently, verification entails that all alarm signals must be verified before a request for police attendance is made. Then, a verified response will be dispatched to the first available police unit and a non-verified response will be dispatched at a lower priority level. The Peel Regional Police and Toronto Police Service already require verification.
Did you know between 75-90% of alarms attended to are false?
The following verification processes are accepted for Toronto and Peel burglar alarm activations effective January 1, 2016, and for Niagara effective July 1, 2018:
Audio sensing device;
Video monitoring device;
Multiple zone activations;
An eyewitness (i.e. private security or person at scene);
Key holder confirmation.
So start thinking about how you can increase the security of your home and the reliability of your burglar alarm through incorporating any of the verification processes – that will help now, and into the future of your security system! We can help you choose what's best, contact us.